A Warm Welcome to all HGP's Clients and Visitors.
Feel free to email or call us to discuss your needs, concerns or just send us some or your comments.
Best of Success for the remainder of 2019
Soon we will be heading into the
New Election Year 2020!
Effective Project and Program Management will be of the utmost importance in 2020 as it was in 2019 as the risks are growing larger across almost all industry segments.
The National Deficit is now at an all-time high, largely due to Former President Obama. However President Trump and Congress have done very little to reduce nor recognize the nation's growing deficit in terms of spending policy's or practice. The National Debt is hanging over the entire country with little to no plan to address the impact from an inept Congress that is power hungry, not yet accountable members.
https://www.thebalance.com/deficit-by-president-what-budget-deficits-hide-3306151
President Barack Obama had the largest deficits. By the end of his final budget, FY 2017, his deficits were $6.785 trillion- President Barack Obama: Total = $6.785 trillion, a 57 percent increase.
President Donald Trump: Total Actual plus Budgeted = $5.683 trillion, almost as much in one term as Obama added in two. That's one reason why so many argue whether Trump or Obama is better for the economy. This would be a 35 percent increase, putting him in the top 10 list.
---
It is well overdue for DOJ and the FBI to clean house (fire the people and hold them accountable) and investigate and then prosecute the key current and former players inside the DOJ and FBI as well as the Trump Administration and former Obama administration officials for what has occurred over the last few years. Total Waste and disgrace of taxpayer's money.
Let's hope the new Attorney General has one set of laws for all citizens and enforces them equally and justly and above all ACCOUNTABILITY.
The country continues to be seriously divided and it starts with the total LACK of any accountability or fair play under the law. The Mueller report was a colossal waste of taxpayer's money!
Volume II was a pathetic hack job. Let's get on with the job of GOVERNING THE USA and addressing the Major Real Issues we have.
The Democrats need better solutions to help the Country. The "Hate President Trump" movement needs to move on and grow up and offer all of us in the County some new well thought out paths forward and then have an open dialogue to discuss and vote and implement.
President Trump and the Republicans need to get in place solutions that place transparency and most of all establish accountability for past and current Actions (DOJ and FBI need to be held accountable) at the forefront.
No balanced BUDGETs have been submitted to-date, nor any real constraints to the ludicrous spending by Congress and YES PRESIDENT TRUMP!
See the National Debt Clock link below:
https://www.usdebtclock.org/current-rates.html
This results in ZERO fiscal responsibility and has been demonstrated repeatedly by both Parties to date. This will sooner than later have a huge impact on the USA and our children and grandchildren.
Look out Greece, the USA will make you look austere, very soon!
Many of our Clients are now proceeding with their large capital projects based on working with a very controversial President and uncertain economy and a divided Congress and Country.
HGP continues to strongly suggest that President Trump create a long overdue USA Comprehensive National Energy Policy (CNEP).
The current Administration has almost made America Energy Independent by eliminating many of the regulations and other constraints on our country's resources by utilizing all forms of energy (renewables, nuclear, gas, coal, and other) and for the first time the USA is a net exporting of oil to the world.
The CNEP will need to be updated every two years based on technology and market developments to keep America on track and competitive in the world.
Trump has said …"Under my Presidency, we will accomplish complete American energy independence."
The last thing investors must remember is that Saudi Arabia is no longer the world's largest oil producer. The United States is.3 So, while an attack on a critical oil production facility in Saudi Arabia is no doubt a negative, the United States (and others) have the capability and the supply to keep prices stable – if doing so is the desired result. In this case, the U.S. offered to do just that, but in the end, it wasn't even necessary.
Looks like the USA is now the world's Biggest Oil Producer:
The United States is the World's Biggest Oil Producer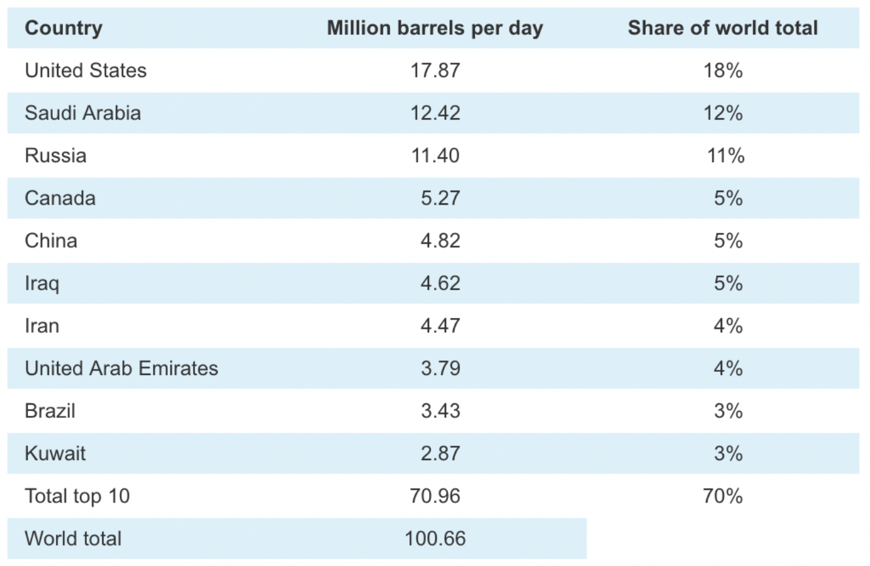 Source: Energy Information Administration
All of us at HGP Inc. want to wish all of our old, new, and potential Clients a prosperous and safe, and successful 2019!
Fred W. Giffels, CEO-Executive Consultant
Thank you for visiting our website!