A Warm Welcome to all HGP's Clients and Visitors and

Best of Success for 2017!
What an election!
President Elect Trump won over Hillary Clinton. Both candidates had their flaws, but Trump had a number of things Clinton never managed to realize:
Very Large Enthusiastic CROWDS that Trump connected with that were not staged Hollywood scripted shows. Trump had MUCH MORE ENERGY often doing more than five (5) appearances a day across the country. Also despite the constant one sided attacks on Trump by the Liberal Media, Trump has a LOT of Common sense positions that us average working class Americans could agree with him on. Yes, details were often not discussed and most important to many of Americans is that Trump had NO Washington history in the swamp.
This was truly a Dewy beats Truman kind of incorrect upset headline.
See Newsweek magazine's colossal mistake that most of the National News Media also made right up to when the votes were counted. We must recognize that at this point in time three states are still recounting (PA, WI, and MI).
Newsweek Trump on Left Correct Cover, Hillary to right Wrong Cover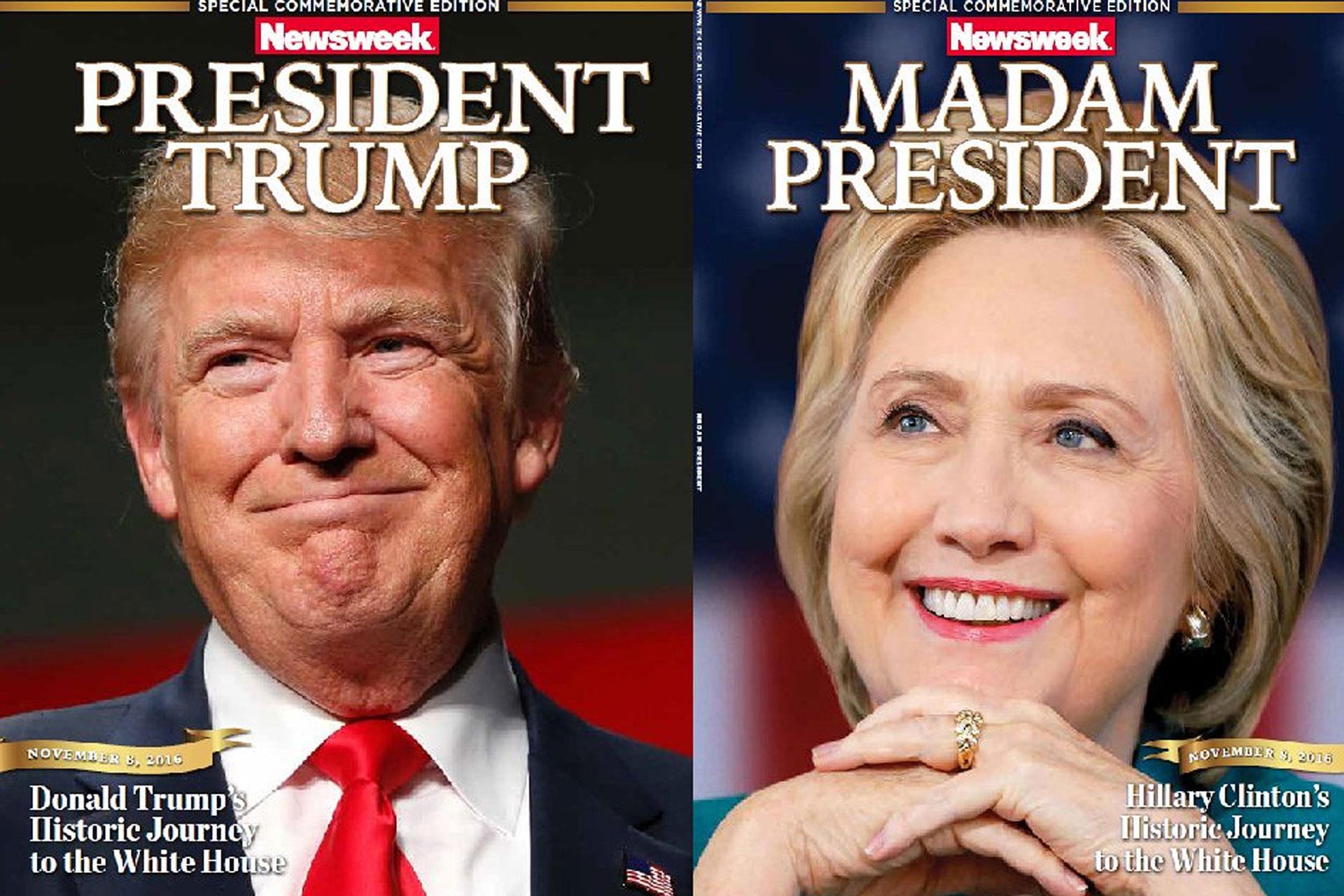 Check out some interesting stories on this Historical Election:
http://blog.constitutioncenter.org/2016/11/pollsters-trump-mistake-takes-its-place-in-history/
http://nypost.com/2016/11/09/national-recall-after-newsweek-misfires-with-clinton-cover/
The World is still in both major economic and security crises. Our Clients are still clamoring for some sense of predictability before many of them proceed on any major projects.
With The Presidential Election results all but confirmed, many of our Clients are now proceeding with their projects based on working with a new "out of the box" leader, President Elect Trump.
Many of us hope that Trump will in fact keep many of his campaign promises such as: reduce the number of business regulations we have to deal with that hurt the creation and retention of jobs, streamline the IRS tax code, drop the Corporate tax rate, repatriate many of the trillions of dollars that USA Corporations have in overseas profits, and address the declining, and in many case decrepit USA infrastructure to make "America Great Again".
HGP would love to see the USA finally develop and implement a comprehensive National Energy Policy (NEP) for the next 25 years.
Trump has promised to make America energy independent by removing the constraints on our country's resources by utilizing all forms of energy (renewables, nuclear, gas, coal, and other).
The NEP will need to be updated every two years based on technology and market developments to keep America on track. Trump has said "Under my presidency, we will accomplish complete American energy independence."
One huge glimmer of hope and common sense over the last year has been Dr. Ben Carson. Trump has nominated Dr. Carson for the next secretary of the Department of Housing and Urban Development (HUD).
He is a class act and we hope he can work to lead all of us in the creation of more inner city jobs and safer life environment for ALL of our inner city families and businesses.
This is something President Obama has long ignored and he has failed at leading and realizing any positive meaningful change over the last eight (8) years. In fact, many have argued that America is in worse shape now under Obama's lack of leadership on this vital issue to the country.
All of us at HGP Inc. want to wish all of our old, new and potential Clients a Safe and Successful 2017.
Thank you for visiting our web site. The revised HGP web site has been updated to better fit with our Clients feedback for tablets and hand held devices.
As always, we will continue to welcome, and will work to quickly respond to any constructive feedback on our web site on suggestions on how we can improve HGP Inc.'s Services to support your needs and requirements.